Friday, December 31, 2004
RESOLVED: HILARITY! 2005
In my family, it's considered bad luck to share your New Year's resolutions, because then people might expect you to stick to them.
Well, this year I'm breaking the curse; I'm making a list of New Year's resolutions, and I'm gonna keep them! Below, I've outlined all the target areas in my life that need fixing, and I've made a few helpful resolutions that are gonna change it all around!

1) Relationships: or lack, thereof. It's very hard to find the right woman, the kind who meets my high standards; one who's smart, and who's pretty, and has a good sense of humor. Therefore, this year I've resolved to drink a lot more. I've found that the more I drink, the lower my standards get. So I promise myself that 2005 is the year that I drink until I'll go home with anybody.

2) My day job: I've been complaining about my day job for so long, and even though it makes me completely miserable, I've done nothing to get a better one. Therefore, I resolve that this year I'm going to drink until I forget how unhappy I am at work. If that means having that first belt of Scotch before I even get out of bed in the morning, then so be it.

3) Improving social skills: Let's be honest, I can complain about romance or career stuff, but the bottom line is that in this world, you need a complete set of social skills. Learning how to overcome your fear of rejection, your shyness, learning how to be a good conversationalist, this is all hard work, but ultimately rewarding.
So my resolution for 2005 is to drink until I become socially adept. One thing I've found is that after three or four screwdrivers I'm hilarious, the funniest man in the room. And a good conversationalist? Forget it! When I'm drunk, I can talk your ear off about any subject under the sun, even subjects people normally find dull - dull, that is, when not in the hands of a master conversationalist like myself. This is the year I drink until I'm a lotta fun to be around.

4) I could stand to lose a couple pounds: And hey, you can't afford to eat if you're drinking all your money away, right?

5) My drinking problem: In 2005, I resolve to fit my entire life around my drinking. It's no longer a problem affecting your lifestyle if it is your lifestyle, am I right?

6) My blog: Eh, nothing's gonna fix this shit.

Finally, I resolve that next year is going to be the year to look back on, the rare fragments I'll be able to remember.

Have a safe and happy New Year, all, and remember - if you drink, don't drive. Unless you really think it won't make a difference in your driving ability. See you all in 2005!



|
Wednesday, December 29, 2004
SOME THOUGHTS
I get tons of Spam, and I always end up opening it, every last e-mail.
I think it's because in the back of my mind, I'm convinced that the one Spam I delete is going to be the one that's actually from a Horny Sorority Girl who actually checked out my profile and wants me to meet her and all her slutty friends.

Also, I need a safe herbal alternative to Viagra.

* * * * * * * * *

I'm terrible at asking women out; if a woman said yes, I wouldn't know what to do with her.
O don't mean that metaphorically - I mean, I never have good ideas where to go. That's because I'm always convinced before I call that she's going to say no, so I never have a Step 2 past, "Well, no hard feelings." (PUN INTENDED!!!!! LOL!!!!)

On that rare occasion that she does say yes, I'm caught completely by surprise. I sound like Ralph Kramden: "Homina homina homina. You wha-wha-wha - ? WHOOOOOAAAAAA!!!!!!!"

I'm pretty sure I date women with a Spazz fetish.

So I never have any ideas about what we should actually do. Luckily there's always my Plan B: Awkward silence. The cool thing about awkward silence is that it isn't a situational thing; I can create an awkward silence anywhere. And it's free; for a fella on a budget, it's the perfect date.

Also, I need a safe herbal alternative to Viagra.

* * * * * * * * *

Sometimes I feel like this blog is the Larry King Column of self-loathing:
. . . Women hate me . . . The best show on TV today: Arrested Development . . . Let me tell you a story about how ridiculous I am . . . Does anyone like more losing sports teams than me? The NJ Nets are actually paying me to root for the Knicks right now . . . Jerry Cooney, now there was a boxer . . . My job is terrible, but it's all I deserve . . . Let me write a scathing parody about how much I hate all the jokes about how much I hate myself, in the form of a Larry King column . . . Has there ever been a sexier woman in history than Sophia Loren? Really, name three . . . I'm about to give up on this joke now . . . The scariest movie in history was Psycho, and not only would I kill any man who disagrees with me, but I have - in three different states . . . I blame my parents for everything . . . Thank God for the Internet; I finally found a safe herbal alternative to Viagra . . .



|
Tuesday, December 28, 2004
I used to work for a company that did a joke of the day mailing;
we'd send out a joke, a little note, a little cheer to stupid people all over the world. I wrote a lot of stuff for that company I wasn't 100% proud of; Top Ten Lists, riddles (Q: Why did the zombie drop out? A: He was too ghoul for school! ~ Yeah, that was mine), awful puns (Rod McKuen listed one of my puns as of the worst joke he'd ever heard), and much much less.

Anyway, I was walking up Broadway last year, and I walked past a homeless guy who had cornered a Yuppie couple and was telling them a joke for change. I realized, walking past, that it was one of my Joke of the Day entries. Here's the joke (please note that I use excessive punctuation marks as a private joke to myself, signifying that I know I'm being horrifically corny):

When Bill Gates died, he went up to Heaven, where Saint Peter showed him to his house; a beautiful 20 room house, with grounds and a tennis court. Bill Gates was pleased, and spent many months enjoying the amenities of Heaven.

One day, he was enjoying one of Heaven's many fine parks, when he ran into a man dressed in a fine tailored suit.

"That is a nice suit, my friend," said Gates. "Where did you get it?"

"Actually," the man replied, "I was given a hundred of these when I got here. I've been treated really well. I got a mansion on a hill overlooking a beautiful hill, with a huge five-hundred acre estate, a golf course, and three Rolls Royces."

"Were you a Pope, or a doctor healing the sick?" asked Gates.

"No," said his new friend, "Actually, I was the captain of the
Titanic."

Hearing this made Gates so angry that he immediately stalked off to find St. Peter.

Cornering Peter, he told him about the man he had just met, saying, "How could you give me a paltry new house, while you're showering new cars, a mansion, and fine suits on the Captain of the Titanic? I invented the Windows operating system! Why does he deserve better??!!!!"

"Yes, but we use Windows," replied Peter, "and the Titanic only crashed once."



|
Monday, December 27, 2004
TO THE MANNER PORN
I'm going to be in a comic book; my friend is putting together an anthology of first-person sex stories called True Porn II, and I'm going to have a story about applying for a job at a porn store Christmas Eve 1994, where they told me they needed someone to mop the floor in the peep-show area nightly, and once a week to mop the ceiling.
If you want to know the whole story, buy the book when it comes out.

Anyway, I had to come up with a title for the book, so I sat at work one day and came up with a whole list, because I hate my job.

Here are the rejected titles for my story:

* The Passion of the Crust
* Jizzing in Action
* "I'm a Peephole Person!"
* One Whore's Open Splay
* Head-End Job
* The Jizz Slinger
* Christmas Carol & Ted & Bob & Alice
* Cum All Ye Facefull
* Pride of the Yankers
* Hit the Load, Jack-Off
* The Janiterrible Job
* The Crass Ceiling
* Mastur of Bation, Pullin' Your Strings
* Milkwood
* Minimum Squeege
* Ooze Slime Jizz It, Any Wage?
* Groan Booth
* Handjob-Hunting
* Mop & Glory Hole
* Little Hummer Boy
* Tis The Squeezin' To Be Jelly
* Elf-Gratification
* Jerkin' Hard, or Hardly Jerkin'?
* Bustin' a Nutcracker
* Glory Holey Night
* VERY Hung on the Cross
* Feliz Naughty Odd
* How to Suck Seed in Business Without Really Trying
* Smooth Moperator
* Dick the Walls



|
Friday, December 24, 2004
MERRY X-MAS
Here's my gift to you (be grateful, it's more than I got anyone else):

The Song of the Happy Shepherd
by William Butler Yeats

THE woods of Arcady are dead,
And over is their antique joy;
Of old the world on dreaming fed;
Grey Truth is now her painted toy;
Yet still she turns her restless head:
But O, sick children of the world,
Of all the many changing things
In dreary dancing past us whirled,
To the cracked tune that Chronos sings,
Words alone are certain good.
Where are now the warring kings,
Word be-mockers? - By the Rood,
Where are now the watring kings?
An idle word is now their glory,
By the stammering schoolboy said,
Reading some entangled story:
The kings of the old time are dead;
The wandering earth herself may be
Only a sudden flaming word,
In clanging space a moment heard,
Troubling the endless reverie.
Then nowise worship dusty deeds,
Nor seek, for this is also sooth,
To hunger fiercely after truth,
Lest all thy toiling only breeds
New dreams, new dreams; there is no truth
Saving in thine own heart. Seek, then,
No learning from the starry men,
Who follow with the optic glass
The whirling ways of stars that pass -
Seek, then, for this is also sooth,
No word of theirs - the cold star-bane
Has cloven and rent their hearts in twain,
And dead is all their human truth.
Go gather by the humming sea
Some twisted, echo-harbouring shell.
And to its lips thy story tell,
And they thy comforters will be.
Rewording in melodious guile
Thy fretful words a little while,
Till they shall singing fade in ruth
And die a pearly brotherhood;
For words alone are certain good:
Sing, then, for this is also sooth.
I must be gone: there is a grave
Where daffodil and lily wave,
And I would please the hapless faun,
Buried under the sleepy ground,
With mirthful songs before the dawn.
His shouting days with mirth were crowned;
And still I dream he treads the lawn,
Walking ghostly in the dew,
Pierced by my glad singing through,
My songs of old earth's dreamy youth:
But ah! she dreams not now; dream thou!
For fair are poppies on the brow:
Dream, dream, for this is also sooth.



|
Thursday, December 23, 2004
MY OWN HOLIDAY
I've decided to get into a real money-making field: holidays!
I'm inventing a new holiday called "Crassmas." I got tired of hearing about "the crass commercialism ruining Christmas," so I'm creating a holiday that is crass and commercial from the get-go.

In fact, I've already lined up a sponsor: Fanta! That fourth-tier soda drink that nobody loves. I've already incorporated it into my central Crassmas mythos:
Fanta Claus.

And in keeping with the idea that "Everything involving kids must be designed to traumatize them," my Fanta Claus watches little kids very very closely at all times, even in the bathroom, to make sure they're behaving themselves.

If they're good, then Fanta Claus brings them a case of cold, refreshing Fanta.
And if they're bad, then he makes them drink it.

Here's some Crassmas Carols:

FANTA CLAUS IS WATCHING YOU RIGHT NOW
He watches you when you're sleeping,
He watches you when you're awake.
He filmed your parents "doing it"
And he'll make you watch the tape.
Don't you frown,
Don't you whine
Or he'll punish you quick
In double-time.
Fanta Claus don't take no crap from no one.

OH THOSE NOISY BELLS
Oh those noisy bells,
The noise, the noise, and the story that it tells.
On an otherwise silent night,
And I'm kept awake by the light
Of the neighbor's holiday display,
Tonight I'll take an axe and hack away
At his light-up Mickey Santa, and as it fells
I'll cut the wire to the speaker that plays the bells.
Oh those noisy bells.

WHO THE HELL DOES THAT BABY JESUS THINK HE IS?
Look there, upon a hill - come three kings -
A star shines high, O' Wond'rous Things!
Of all the Earth, and Marvellous Light that's his,
Away in a manger, a beautiful stranger,
Well who the hell does he think he is?

Look at that Joseph, beaming with pride,
Just 'cause the Son of God came from his Bride.
Whatever you say, O' "Virgin Pure."
Look at him taunting us, when he comes flaunting us,
His brand-new frankincense and myrrh.

Now here comes their boy Jesus, his smile smug,
Last week at recess, our Kevin flattened him like a bug.
Just a prank, but now our boy's covered in boils.
We don't ask for much, but tell Jesus to lay off with his "healing touch"
Anoint himself with his own oils.

Just because his real dad's God
He thinks that's permission to act odd.
And tell us how to live like he's the boss.
"Be kind to the meek," yo kiss this cheek,
I can't wait until he's nailed to a cross.

|
Wednesday, December 22, 2004
I'M A CREEP, I'M A WEIRDO. WHAT THE HELL AM I DOING HERE? I DON'T BELONG HERE...
June it was, 2004. The world was young and I was walking along West 4th St. in New York City's lovely West Village, eating a falafel, approaching Washington Square Park. I started getting paced by a young black fella, who sidled next to me and said in a low tone, "Smoke smoke?"
(
New York street code for, "Would you care to buy some marijuana?" - 'Nuff said, Ed.
)
I said, "No thanks, I don't smoke weed."
And he said (this is the truth), "Yo man, with those glasses, how you ain't smoke weed?"
And I mentally paused and decided, what the hell - it was such and odd question, why not tell this guy the whole truth? After all, how many times have I been asked a variation of this question?
So I said, "Well, I developed serious chronic depression when I was about eight or nine. I had strong suicidal feelings, so for about twelve years, I had to take these incredibly strong antidepressants. One of the side effects was that it was dangerous for me to smoke weed. I stopped taking the medicine when I was about twenty-one, but by then I'd spent so much time in drug-induced altered states that didn't I really want or need to smoke anything."
All this while we're still walking down the street. He looks at me in silence for a second as we approach a corner, and says, "Oh shit, you fucked up. I got to get the fuck out a' here." And he turned the corner, walking away very fast.
How creepy am I? I creeped out a Washington Square Park drug dealer.
"Yo man, with these glasses, how I ain't smoke weed?"
|
Tuesday, December 21, 2004
THINGS TO SEE WHILE WALKING DOWN QUEENS BOULEVARD
PART II - Car Dealers from Hell, er Heaven ?

If you want to understand how many car dealerships there are in Queens, NY, imagine an alien race out in Alpha Centauri (trust me, this goes somewhere). They've sent a scentific expedition to Planet Earth to learn about the funny little creatures that swarm across its surface. They send a scientific vessel millions of miles across several solar systems, and the ship lands on Queens Boulevard.

They'd be very lucky. First of all, with all the different kinds of people that live in the borough, a large green tentacled monster wouldn't stand out too much. In fact, the most notice they'd get is if they tried to break through a Puero Rican family walking six abreast along the sidewalk, baby strollers in front, walking super slooowly and talking loudly. As the aliens tried to make their way through the family, they would get six pairs of eyes rolled at them sarcastically, and a sharp, annoyed intake of breath just loud enough to let the alien know they're annoyed, but not quite loud enough for the alien to do something about it. Maybe it would even hear a muttered "Excuse you."
Then as the expedition passed, one of the women would say to another in Spanish, "Those fuckin' greens think they own the whole sidewalk."

Thanks to advanced alien translator technology, the aliens would understand the comment, but they'd decide not to make a big deal about it.

The report these alien Darwins would file would be as follows:
"As to religion: these hum-mans have many many churches devoted to many many different sects; Catho-olics, Episc-copalians, Korean Bapt-tists. But the most popular hum-man sect has many many different churches erected to it; The Church of The Used & New Auto Dealership. We have not gathered much information about this church; we have attempted to contact several of these gaudily-dressed high priests of the Used & New Auto Church, but their conversation has confused us and given us many migraine headaches. Unit X-17 went in to Bayside Used & New Autos, and walked out owning a 1973 Ford Siesta. We are not sure what a 1973 Ford Siesta is, but it is apparently a mechanism designed to stop running after about twenty-five minutes of use."

That was a very long-winded way of saying, there are a lot of car dealerships in Queens, probably more than the number of churches.
There's no hard data to back this statistic up, but scientists estimate that if you took all of the used cars currently sitting in Queens' dealers' lots and lined them up back-to-front, about 20% of them would actually work.

Comparing Queens car dealers and Queens churches is not 100% fair; God is not to be found in most dealerships. However, if you walk down Queens Boulevard...

You will find one dealership, my favorite ever. It has a mural painted on the side of the building. At the top, the slogan, "YOU PLAN TO PAY, YOU'RE APPROVED."
I think this is a remarkably trusting attitude:
SLICK CUSTOMER: All right kid, I want the red one, the Porsche see? Just give me the keys...
HAPLESS SALESMAN: Jeepers, mister. You do plan to pay, don'tcha?
SLICK CUSTOMER: Of course I do, sport. Saaaay, are you sayin' ya don't trust me, kid?
HAPLESS SALESMAN: No, it's just that you still haven't paid for the last car you bought from me, and the boss is real upset.
SLICK CUSTOMER: I like ya, kid. You got real spunk. No, I promise, I left my bankroll in my other pants, see, and as soon as I can drive home I'll get it for ya, I swear.
HAPLESS SALESMAN: Jeez, it would be real helpful if I knew your address.
SLICK CUSTOMER: Now come on kid, we're buddies right? Well, what kind of talk is that give your buddy? Do ya think I'd try to sucker my friend? What kind of soft soap is that?
HAPLESS SALESMAN: Jeez, no offense mister, but you ain't even given me your real name yet.
SLICK CUSTOMER: I don't like your tone, pal. If you ain't careful, I'm gonna take my business elsewhere, see?

But the thing that makes the mural creepy is the picture: A giant hand from Heaven descends towards a guy, a customer, in a business suit. The giant hand, which has a cuff like you'd find on the sleeve of a jacket from the cheap suit a used car dealer would wear, is holding a set of car keys.
The business customer man in the suit is standing on the bottom steps of a pyramid leading up to a brand-new car, which resides at the top like a bust of a Greek God on a pedestal. There's a holy light shining from behind the car, as represented by several black lines radiating from behind it.

The religious imagery is inescapable; the Dealer is God; the Customer, his helpless supplicant.
In this religious image, there is no afterlife, no Heaven or Valhalla to which one may aspire. Only the sweat and drudgery of an honest day's toil. And if the Man, the Customer, works hard, his reward is that some day he may be allowed to purchase the one physical object that will ever allow him to approach a divine state; a New or Used Car.

No Man may approach this Paradise on his own. He must be given the Keys to Heaven, to his Escape from this World of Pain and Work and Turmoil.

It's a lot to promise, but one thing a Car Dealer is good at is promising a lot, a lot that he can't or won't ever deliver on. Much like a priest. After all, neither of those can ever solve your problems, or give you a better life. All they can do is help you find your way, and make your passage through this life a little smoother, a little more comfortable.



|
Monday, December 20, 2004
JUST A COUPLE THINGS
1) I said I'd pass this on, here it is:
This is crazy.
2) I had a good time, thanks to you. Life is pretty sweet.
3) Read the post below. It's pretty good, as far as the crap I write goes.
|
THINGS TO SEE WHILE WALKING DOWN QUEENS BOULEVARD
PART I - Pipers at the Gates of Dawn...

Interesting (?) Fact: Queens, NY, has 29 cemetaries, housing over five million dead bodies. That's an impressive number when you realize that there's less than two and a half million people living in Queens. That's two dead bodies for every live one; a necrophiliac's Letter to Penthouse.
That's also five million more souls than you'll find in Donald Trump's apartment.

It's also interesting when you realize that the avenue that runs through the borough, Queens Boulevard, is nicknamed "The Boulevard of Death" because so many people have been run over and killed while crossing, making it the most convenient place to die in the world. You live in a neighborhood, you get killed in your neighborhood, you get buried in your neighborhood. There's no need to move more than thirty feet in your life.

Sure, Broadway may be the Boulevard of Broken Dreams, but Queens has the Boulevard of Broken Everything Else. There's a light for every broken heart on Broadway, but there's a broken bone for every light on Queens Boulevard; sometimes it's a candlelight vigil.

The city's done a lot to make Queens Boulevard safer, but for a while watching old people trying to cross the street was fairly entertaining. It was like watching Frogger, where the Frog moved slowly between zooming cars, and clung on to a light pole for dear life halfway across.

I walk down Queens Boulevard into the City (that's what us Queens boys call Manhattan, "The City") about three times a week. It's good exercise.

Sometimes I'll see a guy practicing the bagpipes outside the gates of the Cavalry Cemetary. He's probably Scottish; he's short, stocky, pale. He has large round glasses with black frames, and when he's puffing his cheeks to play the pipes he looks like an angry owl. As you pass, he'll give you a very defensive look, a look that says "Yeah, I'm playing the bagpipes. Do you also want to give me crap about it?"

I don't want to give that guy any crap about it. I imagine that, if you play the bagpipes, you are probably not going to win a "Most Popular Neighbor In The Building" award any time soon. I imagine that you're more welcome to build a nuclear reactor in most neighborhoods than play the pipes.

They were the Scots' secret weapon in the olden days, playing the Pipes of War as they marched into battle. I guess there's no better way to scare your enemy off than playng what sounds like a tremendous traffic jam.
"Oh no!" the opposing army thinks, "We'd better get out of here quick to beat rush hour traffic!"
Unfortunately, they would then add, "Guess we'd better destroy the Scots super-fast before we go."

I don't have a problem with the bagpipes, personally. When played at a funeral, "Amazing Grace" on the pipes can be quite touching. Also, they serve the purpose of making the mourners stop being sad that their loved one has passed on to another place, and start envying their loved one's position of being in a better place, no longer able to hear "Amazing Grace" on the bagpipes.

I just kind of worry. This guy's literally playing loud enough to wake the dead. And I can't imagine anyone being happy to be woken by the sound of bagpipes practicing, dead or not.
And when the dead do awake angry, they outnumber us, two to one.



|
Friday, December 17, 2004
ARRESTING MR. SOFTEE
I've told the second story onstage, but never blogged it. Enjoy...

Rego Park seems to breed a certain kind of ridiculous would-be hustler. Take Mike. Mike had been kicked out of his parents' house at the tender age of 25 for taking advantage of their vacation to throw a wild party that went from their apartment to the roof of their building. Cops were called three times that night, and two months later the management company installed motion detector alarms on the roofs of all the buildings in the neighborhood.

Mike was a big guy; some would say "big and fat," although if you did, he would pound his chest and say, "It's all muscle!" The fact that pounding his chest would cause a ripple in the blubber under the Rangers jersey he always wore was tactfully overlooked by all.
Mike lived in an illegal basement room with Crackhead Richie, the neighborhood fake veteran cripple homeless guy. Crackhead Richie would complain loudly and constantly about Mike, how hard to live with he was.

When you have the local homeless crackhead calling you a bad roommate, you have some serious soul-searching to do. Maybe offer to take out the garbage once in a while. Maybe run a vacuum along the carpet. Maybe help dispose of the hooker that - and let's be honest here - you both murdered.

Actually, the only real mystery Mike was ever the center of was "How can a guy be borderline homeless and do nothing but ride a bike around all day and still be so overweight?"

Mike was down-and-out and needed a job. They say, "Do what you love and the money will follow." So Mike decided to sell weed. Now, my understanding of being a dealer is this; you get a certain amount from your supplier. Then you have a certain time period to sell it and then pay your supplier. You supplier doesn't give a shit about anything except getting his money.

Mike's supplier gave him the shittiest weed possible, and so you would always know it was coming up at that time when he owed his guy money, because he would beg, borrow, and bully his friends into buying this stuff, cutting them good deals. Or at least, as good a deal as you could get considering that you were buying garbage. Ten dollars worth of shit for five dollars is still a waste of five dollars. I never smoked the stuff, so I watched with the kind of schadenfreude you can only get watching a guy you hate literally scrambling for his life.

This is not Mike's story.

This is a story about "Hector." "Mike" is Mike's real name, because he's an idiot and an asshole and deserves public ridicule. "Crackhead Richie" is also his real name (except, I assume, the "Crackhead" part, unless his mother really hated him). I call him by his real name because, well, if he's alive and reading this, then he's probably just happy to not be dead and/or illiterate.

Hector's name is made up because - honestly, when I first wrote this story up seven years ago to perform, I didn't want to chance it getting back to him. And I've grown to kind of like calling him "Hector."

Now, Hector was a pothead and a pot dealer, and he was one of those guys who smoked as much weed as he sold. And so, by the time he was 25, he had one functioning brain cell left, sending out signals like a radio tower. And these burn-out potheads, they always get to have one really good idea before they die.

And Hector's really good idea was, "Hey man, check this out right? I'm gonna get me a Mr. Softee truck. And I'm gonna sell my shit out the back of the Mr. Softee truck, right? And that way, when they get the munchies they come back and buy ice cream ha ha ha. No way the cops suspect Mr. Softee, right? Ha ha ha."

And he was right, it was a really good idea, and it worked . . . for the first few months. But when November rolls around, and Mr. Softee still pulls into the neighborhood, and he still has a crowd of dudes giving him twenty bucks for nothing tangible, well, even the cops get a little suspicious.

And so he was arrested, and he gave up right away which disappointed me because I was looking forward to a high-speed chase on the LIE involving Mr. Softee and a bunch of screaming cop cars.

So Hector goes away - upstate, or Rikers, or wherever bad guys go. And he comes back, and I say, "Hey Hector man, I'm sorry 'bout what happened. What are you going to do now?"
And he replied, "Man I'm a get me another Mr. Softee truck, do the same shit. No way the cops think I'm dumb enough to pull the shame shit twice."

And all I could think was, "Don't underestimate yourself, Hector my friend. You're plenty dumb enough to get caught."

I was going to write a moral for this story, but like most true stories, the moral seems to be "Damned if I know." What do you think the moral is? Best moral wins - something.



|
Thursday, December 16, 2004
STRIPPERS AND COKE
I don't do drugs. But I've got to say this about coke; it can take a bad party and somehow manage to ruin it. I was at a party, and all these guys started acting all weird and getting up in my face and yelling and twitching.
And one of the guys comes up to me and says, "Hey man, you gotta do some of this coke."
Why?
"Because it enhances the party! It enhances the experience!"

Right, but this is a shitty party. I'm having a shitty experience. Why do I need to enhance it; so I can really feel what an asshole you are?
That's why I'm drinking, so I can forget how much I hate this.

Did we learn nothing from the '70s? Coke is a gateway drug; it leads to worse things, like leisure suits and disco.

* * * * * *
The Mets - The Pedro deal? I have lots to say about it, but I haven't processed it enough to be funny about it; I think you'll have to wait for next week for some jokes about it.
All I will say right now is, why did Mets brass consider the idea of paying Manny Ramirez - a player at the top of his game who could add some much-needed firepower to their batting - $77 million crazy-nutty-cuckoo, but the idea of guaranteeing Pedro Martinez:The Golden Years $56 million dollars for four guaranteed years is the #1 greatest idea ever? That means $14 million for every year he's going to spend on the DL.

The most frustrating thing is that the Mets' problem last year wasn't starting pitching; they had the lowest ERA in the major leagues. Their biggest problem was the fact that their batters were constantly swinging like they were afraid of hurting the ball's feelings. And their fielders played like they were afraid of missing a phone call.

The Yankees, meanwhile, have signed Carl "Shades of Brown" Pavano. On the days he isn't pitching, they're just going to set the ball up on a tee for the opposing team.
Unless they sign Randy Johnson, who has kinda sorta expressed interest in being traded from the Diamondbacks; I understand he's packed his stuff into small liquor boxes faster than Foster Brooks.
Apparently Steinbrenner's super-interested in Johnson; I guess he doesn't want to be the biggest douchebag at the Stadium this year.
Luckily, they still have "Murderer's Row II":
Gary Sheffield: the guy's arm is held on with baling wire and willpower.
Jason "Zone Diet" Giambi: All he did to lose 40 pounds during last year's winter break was stop eating ice cream. Specifically, Ben & Jerry's "'Roid Rage."
Alex Rodriguez: the greatest player in baseball history. I mean, sure his bat isn't so hot, and his fielding isn't the greatest, but he's getting paid more than Gehrig, Ruth, and Mantle combined.
Derek Jeter: He was awarded a Golden Glove for running through a wall into the stands. If he did that in Little League, he'd be awarded the nickname "Spazz."
Bernie "Father Time" Williams: At this point, it'd going to be cheaper to fire Williams and have him played by Morgan Freeman. Who is old.

The Boston Red Sox, meanwhile, have signed David Wells. That's right, they've snagged the only guy in baseball who's a bigger mercenary a-hole than Steinbrenner. With Pedro gone, they need a new Mr. October; instead they've signed Mr. Oktoberfest. That guy's fitness regimen makes me look like Marion Jones.
Actually, with all the steroids and hormones, Jones is way manlier than I'll ever hope to be.
Which brings us to:

Barry "Whoops! Those Were Steroids? I Thought I Was Eating Skittles!" Bonds - Some people think he should have an asterisk next to his records. Especially his "Most Babies Eaten By A Major Leaguer" record. Right now, the sports press might hate him more than the people of San Francisco.
What's interestingis, if you look at Sheffield and Giambi, and all the guys who've admitted to taking steroids, is that their stories all start with, "I was talking with Barry Bonds' trainer..." and end with "...and then I ended up rubbing this cream on me."
Who the hell is his trainer? Globetrotting drug dealer/pimp Ron "SuperFly" O'Neal?
Usually to see that kind "athletic training," you have to watch a guy selling crack in a junior high playground.

TOMORROW: Rego Park Babylon: Stories of Decadence and Drugs in Queens! Please don't be turned off by my baseball ranting!



|
Tuesday, December 14, 2004
THINGS TO DO IN LONDON PART 4
THE LONDON CENTRAL MOSQUE
from www.wcities.com
I had to see what this building was; I was guessing a mosque of some kind. So I crossed the street against the light. I heard a young boy's voice, in a perfectly cultured English accent, say, "He didn't wait for the green man!" I looked behind to see two little Arabic children, a seven year-old boy and his two years-younger sister, watching me with a mixture of envy, concern, and chagrin. I mentally shrugged; I've never ever figured I would ever serve as a good example for kids.
Anyway, isn't it better they learn jaywalking from someone they can trust, like me, instead of from some stranger in the playground, like I had to?
I approached the mosque - from the back, as I was to discover shortly. There was a wall, a fence of some kind, and a back gate in which was parked a construction truck and some debris. I figured that I could edge past the deris, but I wasn't sure this was the entrance you were supposed to use.
The sun was going down over the huge dome - guide-books describe it as "golden," although it seemed copper to me, with the top blackened, as if struck repeatedly with lightning. it had a crescent moon at the top. Next to it, a stone tower that also had a crescent moon at the top. I stood, pondering whether I should walk around and find the front entrance. A Middle Eastern couple walked by with a stroller when it came - an amplified Call to Prayer.
The picked their way over the debris, squeezing past the truck and I - figuring they knew what was appropriate - followed suit. They took a right to a large plaze. I decide to hook a left to a an area with large trees throwing gentle shade. The bulding is large, very large; it can hold up to 4500 people, and walking around the back way was a bit of a hike. I walked through a muddy, grassy area. To my immediate right, there was a large recess dug next to the building, deep. At the base, a fun little playground for children. Behind it, large windows looking into a huge prayer room with hundreds upon hundreds of prayer mats arranged carefully along the floor.
from www.chaplaincy.ic.ac.uk
I made my way around to a large plaza at the front of the building, across which ran stragglers who had missed the call to prayer. I felt a little nervous, I'll admit. I really was curious, and I wanted to head right inside the mosque. I'd never been inside a mosque before, despite the fact that I've lived across the street from one for about twenty years. but the congregation there is a bit stand-offish, not very inviting or warm. In fact, the only thig I knew for sure was that they created a lot of traffic on a Saturday night, and took a lot of parking spaces that residents find hard to come by in the first place.
So I walked out the front gate - past a sign that said "THIS MOSQUE IS A HOLY PLACE. All visitors must observe rules..," exacerbating my nervous state; what if I was wearing somethign deeply offensive and didn't even know it? What if my very presence profaned this holy place? Islam has kind of a bad reputation in the USA; sure it's a religion of peace, but peaceful people with
very
sharp elbows who are not afraid to act on their anger if offended.
I stood outside the gate, looking in through the large windows with their exotic
Nights of Arabia
arched windows (did I mention I know nothing about architecture? This is another handicap I have to overcome in trying to create a word picture. And yet, we Americans somehow get this reputation around the world as a nation of ignorant rubes. What a mystery).
In the windows to the dome, I could see a huge chandelier, and Arabic writing engraved around the inside of the ceiling. I stand there, and watch a young man tie his shoe and head in. I figured that if a guy taking noted couldn't get their attention, nothing could, and yet the security guards I saw didn't come out to ask me what i was doing there. I had a plan in the back of my mind - get them out here, get them talking, ask if they could let me in and look around a little bit. And then overpower them, steal the golden idol, run down a cavern mouth pursued by a large boulder...
Still no guards came out. I realized that all I was doing was being a creepy loner trying to get something done passive-aggressively. This called for action. This called for aggression-aggression. What's the worst they could do? Have me arrested for trespassing? Have a large guy in a turban and beard named Mustafa cut off my hand with a scimitar?
Maybe say, "Hey kid, stop watching so many of your blasted 1930s action movies?"
So I walked up to a guard - a large man with light-brown skin, wearing a blue uniform and a vest with green reflective tape that said "SECURITY" - and said, "Excuse me, do you have guided tours?"
He looked at me as if I'd asked him, "Excuse me, do you have a dime bag?"
After having me repeat the question, he pointed towards the domed building and smiled and said, "Go inside and ask them."
I walked into the domed building, into a lobby. Another security guard was helping two blond women twenty-something Western women. A five year-old boy walked behind them, looked them over appreciatively, made an excalamation in a language with which I was unfamiliar, then leered at me. I smiled back, more in surprise at seeing such blatantly adult sexism out of someone so young than in a shared comradery. He then walked on.
While the women talked to the guard, I took a look around the lobby. To my right, a table with desserts in aluminum trays had been set up; brightly decorated cakes and treats. THere are glass cases with books on Islam displayed. To my right is a large area, with a staircase which - if you stand facing it - is against the wall which is to the right again. Two sets of red velvet ropes create an oval. I wonder what that's for, and I find out soon enough.
Whatever the young women had asked, the guard said something back to them. At that point, one of the ladies took a scarf off and tied it over her head. Another tied a shawl over her head, and they followed the guard's pointed finger and disappeared into a door with a sign over it that read, "WOMEN'S PRAYER - WUDHU."
Now it's my turn. Again, I'm nervous. A stranger uninvited in someone else's holy place - a Someone Else, I'd been told over and over, that traditionally hated me and my incredible freedoms. The guard was - as were any guards I'd met over in London - an incredibly nice fellow, very dark-skinned. I asked if it would be all right if I took a look around. He pointed to the large circular just past him; inside were hundreds of men bent down in prayer.
"Go ahead. Just take off your shoes."
I obediently started to take off my shoes right there, and he smiled at me, like an Uncle to his 5 year-old nephew. "No, inside."
I nervously slipped my shoe back on and walked into the prayer room as quietly and unobtrusively as possible. In fact, the only reason I didn't tip-toe is that it would have looked ridiculous and drawn more attention to me.
As I walked into the prayer room, all the men bent down in prayer stood up; apparently I'd caught the end. I took off my shoes, and saw where they were supposed ot be placed; large shoe racks, like at a bowling alley, lined the back walls, the side walls. I stood in a corner, waiting for the first rush of men to find their shoes, and put my shoes away on a rack. Mine were the only black slip-on Skechers with leather upper coating and holes developing in the soles, so at least I knew I'd be able to find them with no trouble.
By this point, the biggest rush of worshippers had gone. I looked around the large prayer room.
Now, I'd like to take a moment to explain; I hope that I'm describing this interior accurately. I was taking notes literally on the fly; scribbling as discreetly and quickly as possible. I haven't had a chance to corroborate my impressions with an official guidebook or anything. So if someone who works at the mosque or worships there happens to stumble across this, and would like to clarify one or two points, I'm all ears.
The floor was covered with a large carpet, patterned with long rectangles, each about the size of a prayer mat. I guessed this had been designed delibrately, so that men could worship in that room (inherently sinful women were kept out) without the trouble of having to bring their own mats, lay them down facing mecca, and then rolling them back up, cleaning them. I have not asked anyone at the London Central Mosque, but this is an educated guess.
I looked up at the ceiling I'd glimpsed through the windows. In the center of the domed ceiling was a large, beautiful, crystal chandelier. Crawling around it in engraved Arabic letters was a long run-on sentence that wraped itself around the room. For a second I wished I knew the language so that i could read it. Then I remembered that I'd taken first-year Spanish four years in a row, and that's a language that shares the English alphabet. I had absolutely no desire to learn any kind of new language. Lying to yourself in your own interior monologue is a very dizzying thing, and i gave it up as a bad enterprise.
This is one of the few ways in which I would consider myself the quintessential Ugly American. I grew up in Queens, NY, quite literally the most diverse geographic area on Earth, according to a study I read about. I grew up in an area that was so filled with diversity that it wasn't that there was no racism; it's just that there was so much diverse racism directed at so many different kinds of people that it all kind of cancelled each other out. So I grew up in an environment where i was encouraged to try different kinds of food, experience different kinds of cultures and religions, and heard dozens of different shades of people speaking dozens of different languages, or some kind of English in hundreds of different languages. And I have had no desire to speak any of them.
If English was good enough for Jesus, then by gum, it's good enough for me!
I still felt very conspicuous, and decided that in order to not just look like a weird guy who sticks out like a sore thumb (more on that in a minute), I'd better act like I belong in the prayer room. but I didn't want to just prostrate myself and hope I didn't look like an asshole. Remember, I was still afraid that at any moment I was going to do the absolutely wrong thing and get dragged away and beheaded as a blasphemer. What can I say? A prejudice that becomes deeply ingrained becomes an instinct; like scratching an open sore, or punching a Mormon.
I take up a rectangle next to a man still deep in prayer and adopt his pose; hands in front, face down, knees under and ass up in the air. Like much that is religious, it feels half-profound and half-obscene. After a minute, I get up and retrieve my shoes and join the throng outside.
They were all lining up, packed into the hallway, heading towards the large area and the staircase. I burn with a great curiosity to know what they were doing, where they were going. but my friend the secuirty guard is now very busy directing people ahead. I decide what the hell, let me see where these people are going, and I head with the crowd towards the staircase.
Now the mystery of the velvet rope oval is revealed; it creates two lines around the room to the staircase. One is short and direct and covers a few feet to the stairs, and the other goes all the way around and is a longer wait. I make a swift deduction; the shorter line must be a VIP line, the men being somewhat better-dressed, and therefore subject to closer scrutiny. I decide that if I don't want to be ejected and kicked out, I'm going to take the long route around with the plebes.
This gives me plenty of time to regret my decision. I'm in a crush of dark-skinned, bearded men, generally on average about a foot shorter than me. They are dressed in their Saturday best. I am wearing a sweat jacket over a dark green sweatshirt that reads, "STOP PLATE TECTONICS."
Last week, I performed at the Columbia University Hillel Center's Channukkah Party, following a menorah-lighting ceremony. With the exception of that event, even in New York City I tend to be the Jewiest-looking person in the room. My mom's side of the family is from one of those little Eastern European Anatevka villages that's sometimes Russian and sometimes Polish, depending on who's winning. No matter who's in charge, it's always bad for the Jews, which is why they got the Hell out and to New York in the first place.
"Sure, they hate us here too," my venerable ancestors said, "but hey. At least no Cossacks."
My point is, if I'm aware of how Jeish I look in a diverse atmosphere like New York City, imagine how I feel in a crush of devout Muslims in the London Central Mosque. Now add to that the fact that I'm 5'11 and 200 pounds. A comic I don't respect terribly once called me "the biggest, scariest Jew-boy I ever seen." Again, that was back in New York.
Imagine, for a second, Peyton Manning walking into a meeting of the Greater Cleveland Area African American Chess Society High School Championships, and you have some idea of how conspicuous I felt at that moment.
And yet, as incredibly self-aware as I am, I don't so much as draw a second glance from anyone around me. Think about a Muslim, an Arab, almost six feet and two hundred pounds, in a crush of worshippers making their way into St. Patrick's Cathedral. This unfortunate would be the subject of the sort of scrutiny that usually a car wreck on the highway provokes.
As we approach the staircase, my nerve breaks. What if we're going to another, deeper prayer room, where everyone knows the secret ceremony but me? Where I see secret ancient rites not meant for the eyes of the infidel? Or worse yet, what if I'm pulled out of line by Security and - heaven forfend - publicly embarassed? I look around for a way out, but that would involve fighting my way through a packed line of bodies three deep. No, for better or for worse I'm stuck. I decide to relax and go with the flow.
Eventually, we make it to the staircase. We Joe Six-Packs are kept to the right, and the Blue Bloods are kept to the left. At the bottom of the staircase, I see a long table. A security guard talks to each man as he reaches the bottom, and then that man given a covered aluminum container for hot food. He's then led past a stanchion, where other Middle Eastern men are standing around and conversing.
Now, I'm hungry at this point; I'd spent the day walking through Regent's Park, and it had been many hours since an early lunch. A lunch, I need to add, of English food, which tends to leave the mouth like a vague regret.
So I have this conversation in my own head:
Well, I am hungry, it wouldn't hurt to grab a free dinner.
But what's in those boxes?
Can't be worse than those sausages we had. In fact, it can only be better.
Look, do you really want to be at a party where you don't know anyone?
So you don't like making new friends?
And you have absolutely nothing in common with anyone -
You're in London to have new adventures, to try new things.
- and where they culturally despise you -
Man, where do you pick up these things? They're people just like you.
So you're ready to make friends at a party where no one knows you, where there's a little resentment towards your country of origin, and where having a beer to loosen up is absolutely out of the question?
Well...
And where there's zero chance of meeting girls?
Let's get the f out of here, my man.
So at the base of the stairs, I asked the security man where the exit was. And he showed me.
I wish I could have a more interesting ending to this story. I envy the earliest travelogue writers. Like the first overseas tourists six, seven hundred years ago, when explorers could tell tales of escapades with dragons, giants, and Gods, and their royal audiences would believe them unhesitatingly because royalty tends to be - in general - um - how do I put this, tends to be inbred syphillitic parasites that, for the most part, wouldn't be able to find their own assholes without the aid of a Royal Cartographer of some sort. No offense, Prince Charles.
Of course, these were te same royalty who were funding their ships and their expeditions, who could pull their livelihood, ships, property, or head, if they didn't feel they were getting their money's worth from their explorers. And they measured their money's worth in silk, spices, and fantastic tales of derring-do.
I have a somewhat less demanding audience. Whereas they had to please barbaric madmen with ultimate power of life and death,
you
, no offense, are someone who's bored at work and avoiding putting a spreadsheet together.
As shortly as four hundred years ago, I could have ended this story with a yarn about finding a secret chamber with a two hundred foot pagan idol with a large ruby eye, around which were half-naked savages sacrificing a beautiful virgin on an altar. Instead, I end it with me walking down London's Park Road, in the chill of early evening that nips like an adventurous puppy, in search of a cheap dinner and further adventure...
|
Monday, December 13, 2004
DR. PHIL REMOVES HIS NAME FROM CONSIDERATION FOR 'SECRETARY OF TOUGH LOVE'
TV personality Dr. Phil removed his name from nomination for the newly created post of "Secretary for Tough Love" after a background check revealed that he paid illegal immigrants to give his children tough love ten years ago.
Dr. Phil, in proposed "Big Brother is Loving You" ad
"I swear it was a mistake," said Phil in a hastily-convened press conference. "If I had had any idea back then that I would one day undergo any kind of federal background check, I would have covered my tracks a lot better."
Phil is the "beloved" host of the syndicated self-help show
That Show What's It Called Something Like "Dr. Phil" Right?
As recently as a few days ago, Bush administration officials were lauding Dr. Phil's credentials for the newly-created cabinet post. Secretary of Defense Donald Rumsfeld said, "Sure, a guy like me can tell those army guys that they have to scrounge through garbage to create homemade plate armor, and they better like it or lump it. And believe me, I enjoy it. But I'm a busy guy. As Secretary of Defense, I have to figure out a way to protect our country against unarmed Iraqi women and children. A best-selling author like Dr. Phil knows the best way to explain to the boys fighting overseas that they ain't going to be treated better than the hungry and homeless right here in the States."
Alberto Gonzalez, Bush's pick for Attorney General, added, "And if they don't like it, he can always get The Belt."
However, Phil's nomination was scotched when it was revealed that he paid a successsion of illegal Haitian nannies to administer the tough love that his children needed, especially as he started gaining fame through
Oprah!
, a popular nationally-syndicated talk show.
"Mister Phil," said one of his former nannies on condition of anonymity, "he say, 'I go Chicago and tape show. You see kids not do homework, you see F report card, you spank hard. You say, 'This hurt your father more than it hurts me'.' I have three children to feed, I need six dollar an hour he pay. Now I work for Michael Jackson. If I say more, he say he have me - " and then made a "cutting across the throat" motion with her forefinger.
President Bush read from a prepared statement yesterday, written in large 24-point type with the hard words spelled phonetically. "As sorry as I am to see Dr. Phil removed from consideration, tthere is no room in my administration for corruption," he said, "if you're going to be dumb enough to get caught. Just ask Ashcroft."
He then put down his prepared statement and began to speak extemporaneously. "And now here's something interesting. Since this election's the first time I've actually been elected for real, we think that means that four years from now I get to serve another term. Rehnquist said he could prepare a - ", at which point, the President was tackled by his Secret Service agents.
Now that public service is out of the question, Dr. Phil may be shown some "tough love" by the IRS in the form of an extensive audit. When asked by reporters if his future plans include another season of his show, he replied, "I don't know. Is that still on the air? I heard it got cancelled or something."
Dr. Phil added that he plans to spend his down-time writing a sequel to his
NY Times
best-selling diet book, the working title for which is "How To Put The Weight Back On."
|
Friday, December 10, 2004
THINGS TO DO IN LONDON PART THE THIRD
Regent's Park, and the London Central Mosque
I like Regent's Park. Maybe not as much as Hyde Park, which had me absolutely entranced (the second time I went to Hyde Park, I was buzzed on a couple of pints of Guiness. It's a different kind of "entranced," but just as legitimate), but Regent's Park has a charm of its own. Especially on the day I went - October 30th. It's a chilly day, but not too cold, and the sun is actually out most of the time.
From www.urban75.org
Regent's Park is a pleasant enough amble; if you enter through the gate at the southern tip of The Broad Walk, you find yourself walking up a wide path. When I see the sign for "The Broad Walk," I'm hit with an admiration for the very very imaginative royals who litter London with the most completely obvious place names; "I'm going to take Westway to Roady Road, where I plan to walk along Southern Walky Lower-Point-of-Compass-Walk Way until I reach Sandy-Stretch-Upon-Some-Water Beach."
The second time I was there, to meet my sister and her boyfriend, it was late evening and there was a nice little, cool mist developing. But the first time I went was early afternoon, and the sun, when it emerged from behind the clouds, warmed the evergreens and the half-hibernating fountains. Either condition is preferable in a different, dreamy way, although the first time was also coupled with the excitement of actually being in London! Half a world away, and in Regent's Park, a place I'd only ever read about and half-expected never to see in person!
I was to feel the same way a couple of days later, when I encountered Trafalgar Square for the first time.
To your left and right are benches on which sit couples, holding hands and dreamily staring into each others' eyes as they talk about things which only they find interesting, if even they do. Parents with baby strollers and little kids on razor scooters whizzing dangerously close - as dangerous to them as you, tempting as it is to just hold your hand out and "accidentaly" smack them in the face as they ride at 30 mph an inch away from you. You don't, but boy are you tempted. There are couples walking big big dogs. All around you are constant reminders that the world is in love and everyone has someone - except you, who are worthlessly alone. Seriously, what's wrong with you, other than being ugly?
The world is an asshole that way. Hey world, some things are better left unsaid, jerk!
Which reminds me; one of the most civilized things you'll find in London's parks are small metal boxes on poles; painted in green and grey, they almost look like mailboxes. Instead, they are specifically and solely for the disposal of dog waste.
As great an idea as this is, I can not imagine that emptying these boxes are exactly the elite job of the greater London area's sanitation department. In fact, if they're anything like NY's SanMen, that assignment goes like this:
TONY
: Hey Jose, come in my office here a sec.
JOSE
: Yo, what's up, Tony?
TONY
: What's this I hear about you and making noise at 3am?
JOSE
: I wasn't making no noise.
TONY
: That's what I mean. I got this report on my desk from the other guys on your truck. It says you quietly picked up all the garbage cans along your route, didn't drop nothing. You whispered the whole time, and when someone else talked loud - you shushed him?
JOSE
: it just seemed so inconsiderate -
TONY
: Not only that but - let's see, you drove the right way up a street, you stopped for pedestrians . . . and a red light . . . and a stop sign?
You didn't park on the curb?
I don't know what's gotten into you lately -
JOSE
: Look, Tony -
TONY
: - but I'm putting you on dog-shit duty.
JOSE
: What? No, come on. That's Lou's job.
MURRAY
: I'm taking Lou off this week; he hasn't eaten any babies.
JOSE
: That's bullshit, man.
TONY
: You're bullshit - a disgrace to your filthy green uniform. I should strip you of your medals; you don't deserve a Purple Decayed Artichoke Heart.
JOSE
: That's from when I got shelled in Shrewsbury. Those eggs were lethal rotten!
TONY
:You don't even deserve to wear the crusty gloves of the Lesion d'Aroma!
JOSE
: I wanna strike!
TONY
: You wanna strike?
TONY strikes him across the face, as Three Blind Mice fades up in the background.
TONY
: You wanna another one?
BLACKOUT
* * * * *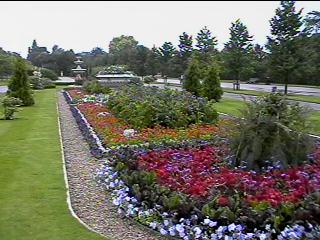 From www5.wind.ne.jp
In writing these notes up from my notebook, I'm hit with two strong regrets:
1) My handwriting is so insanely sloppy that it's hard to decipher. (I've decided this is my parents' fault. Assigning blame is the best solution to a problem, or at least the easiest.)
2) I know nothing about plants. How to describe them, how to identify them. So a lot of my notes on England's flora amount to: "Man, those are different species of trees than we have at home (well, duh!)," and, "Those flowers were sure pretty!"
Imagine that my hulking form is gently stroking a pet mouse as I say the above, and you'll get an idea of how I feel to even read it in my own handwriting, insofar as I
can
read my own handwriting.
But the park is in the stately decline of early Autumn; the trees are red, yellow, orange Van Gogh smudges on trees of bare brown and grey bark, those trees that have not yet lost their foliage. There are still blue and purple flowers - violets? - clinging to life, as well as other flowers that droop and fade by the paths that wind through Queen Mary's Garden.
I like Queen Mary's Garden; a circular park within Regent's, with paths that wind through plants and miniature tableauxs of nature. Perhaps unlike Central Park at home, it feels a little
too
designed, a little
too
"everything is neatly arranged."
Behind some low iron fences you will find short hedges trimmed and sculpted into spirals and odd shapes.
Each bench here bears a small, discreet brass plate bearing the name of the donor that made the bench possible.
If I had the money, I'd sponsor a bench in the park, if only so I could have this conversation:
ME
: Excuse me, you're in my seat.
SOME GUY
: I don't see your name on it.
ME
: Sure it is. Right there.
SOME GUY
: Well, I'll be damned. I guess it is your seat.
* * * * * *
I walk past a bench set into a small recess - a well-dressed, middle-aged man is lying asleep on the bench, stretched out, with a bicycle proped up in front of him, as if to hide him, as if to give him privacy from prying eyes. Who knows, maybe that's "his" bench? I consider demanding ID to see if his name matches the one on the brass plate. But instead, I walk on.
In a semicircular alcove, there are three benches. I sit next to an elderly woman fast asleep. It's certainly a good spot for it; we're ringed in by trees and plants, and the alcove is designed so that the noise of the park is hushed. In fact, the only noise to disturb is the ring of the cell phone of the French woman sitting opposite. When her friends arrive, they talk loudly, waking the elderly woman up.
Further along the path, I find a waterfall in miniature running down a small incline. I climb the short fence (honestly, if the British government didn't want me to do that, they'd have electrified it), and in the spirit of Lewis and Clark, follow the small falls to its source - a hole in the ground, probably a pipe. In the grand old tradition of American exploration, I claim this waterfall for the United States and evict a small tribe of natives living at its mouth.
I wander over to the Rose Garden.
From www.pluto.dti.ne.jp
Before you even enter the Rose Garden, the smell of roses hits you. In the summer, it must be completely overwhelming, but even at the base of winter's cruel slope, when a third of the plants have died and the rest are flashing their bright banners for the last time, the roses are amazing and beautiful.
Just dots of red and yellow and white, rolling back into the distance. There are points in the rose garden designed to trick your eye, so that you believe that the roses just go on and on into the infinity of the English countryside.
In a circle you'll find wooden posts strung with ropes. Although the plants on these ropes are now dead, there are plentiful name tags telling you what kind of roses you'd be looking at if they were alive.
I wander through the rose garden; I'd always scoffed at the rose as a symbol of romantic ardour before, but no longer. These roses are a metaphor for human romance; beautiful to behold, and yet extremely painful to the touch if grabbed too quickly. Handling a rose in its bloom is a lot like handling a new love; gingerly, placing your fingers carefully so as not to crush the blossom, nor mar the deep rich colors of the petals, nor prick your fingers on its many artfully-placed thorns. Place it to your lips slowly and savor the bouquet. Then cut its head off and wear it in your lapel. Or keep it in a vase until the beauty fades and then throw it away.
I am lonely in London.
* * * * *
From www.trekshare.com
From there, I head to a duck pond.
The pond is small, and yet many different species of bird co-exist here peacefully. Gulls and geese and several species of duck. The pond is ringed by small grassy embankments, and protected by a foot-high iron fence - like all the fences of Regent Park, they are hooped, iron, and more decorative than effective.
And yet, the fence as a marking of territory is so strong that - every few minutes, as if on a prearranged signal, the gulls all break and fly over the pond, swooping in a broad circle - and yet, of all the birds that fly, none ever fly over the fence. It's as if there's another fence, invisible to the eye, that extends high over the iron railing.
Children and their families cluster around the duck pond on the other side from where I sit. It occurs to me that I've been in a big city not unlike mine for four days now, and this is the first time I'm seeing loud spoiled kids screaming at the tops of their lungs, ruining the atmosphere. Those kids are screaming in an American accent, and their parents ignore them for the most part. When the parents do yell at them, it's in a duet of strong Long Island accents. The mother has dressed the two girls in identical purple coats, and the boy in a blue coat. She has long bright red fingernails and high hair. The husband looks like the kind of guy who - if you asked him what he did for a living - would say, "A contractor." Then he'd say, "Why, you a cop?"
The kids feed the birds; all but the largest and wisest ducks swarm the embankment on their side of the pond. As the birds feed on crumbs, the kids periodically run at them, screaming. The birds scatter, the largest and wisest in the center of the pond chuckling in their quacky undertones.
These birds are the equivalent of those teenagers who work in New York at restaurants near tourist attractions like the Empire State Building or any Broadway theatre, smiling at the loud obnoxious and beery Midwesterners who clumsily stumble and flirt their way through my city. These teenagers smile broadly and then curse softly under their breath, but never loud enough that they lose their job.
These idiot kids are safe from having their eyes pecked out, so long as the bread crumbs keep coming.
Finally, a couple walks on my side of the pond - braving the kids zooming by on their razor scooters - and feed the birds. I get to witness the birds at work. The best part is watching the gulls keep order.
I like gulls. I was on the beach at Coney Island this summer, watching a large dirty white gull hauling a cardboard Big Mac container across the beach in its mouth. Every few feet, it would rest the container on the beach, and watch the wind hip it back up the beach, past the point where the gull had started. The gull then ran over and grasped the conatiner in its beak, and dragged the container back. It would then rest the container on the beach, and the wind would work its same mischief. This went on for a long time, maybe a half-hour. Every so often, a darker-colored gull would fly down, supervise the gull at its work, and then fly away again.
I felt for the gull, I really did, it being a living metaphor for every job I've ever had.
These gulls were the bouncers of the bird pond; they made it absolutely clear to any pigeons that wandered over that, although the pigeons were welcome - barely, grudgingly - to visit the grassy embankment, they were absolutely
not
to have any of the bread crumbs thrown by the tourists.
I watched the gulls chase away pigeons that grew too speculative.
I watched a bold pigeon take a large piece of bread in its beak, and a gull literally grabbed the bread out of its mouth and tossed it to a duck.
Eventually, I wandered eastward.
Peeking over the trees of Regent Park, I see a large copper dome with a crescent half-moon astride, and an accompanying tower with same.
But I see that this post has already grown overlong, and so the good part of this story will have to be continued next week...
|
Thursday, December 09, 2004
THE SADDEST KIND OF ATHLETE
has to be the Mathlete. Because you won't get girls with your amazing Mathleticism.

Also, you won't ever get hired for the good commercials:
LITTLE KID 1: "Man, it's so boring around here. Let's do drugs!"
MATHLETE: "Hey kids."
LITTLE KIDS: "It's world champion Mathlete Brian O'Connor!"
MATHLETE: "That's right, and when you - "
LITTLE KID 1: "Shut up Pointdexter and give us your lunch money!"
MATHLETE: "But I - OW! STOP IT!"
LITTLE KID 2: "Thanks asshole."
LITTLE KID 1: "Now let's buy some crack!"

The second saddest athlete is a hot-dog eating champ.
Because it's the only sport where you also find out the answer to the question, "How many cocks can I fit in my mouth? 57 1/2? All right!"



|
Wednesday, December 08, 2004
I AM NOT ASHAMED
of the fact that when I was a kid, you could buy my love.
I am, however, ashamed of the fact that, as a kid, you could buy my love with cheap plastic crap.

Yeah, I sure loved those He-Man and GI Joe and Transformer's toys.
The problem is, my parents always did their last Christmas shopping at the very last minute, so I never got the action figures I wanted. By the time my parents went to the store, Snake Eyes and Sgt. Slaughter were gone, so I had to get the secondary guys.
Like, I never got Snake Eyes, I got Frank - the Motor Pool guy, or Jeff the Quartermaster.

It was always weird playing with my friends, because they had the cool guys, and I didn't, so they'd try to include me:
"Look out, Cobra! We're moving in on you - as soon as we check the oil and gauge the air in our tires."

* * * *

Some years my folks didn't have a lot of money, so I would get the cheap foreign knock-offs of the toys I wanted, and my parents would always have to act surprised:
"Mooom, this isn't a Transformer's!"
"That's what it says on the box!"
"Nooo! This says 'Transfarmers'! Look, it changes into a tractor!"
Or:
"Dad, I think Santa made a mistake. This is a 'She-Man, Mistress of the Universe'."
"Oh, son, Santa made that mistake in a bar in San Francisco once, too."

* * * *

No matter how badly I wanted these toys, and how happy I was to get them, they were always broken within a week anyway.
My toy collection looked like the amputee ward at a VA hospital.

"How'd you lose your legs?"
"The Battle of Being Left on the Bathroom Floor. How'd you lose your head?"
"The War of Being Chewed By A Friend's Dog."

Which made playing with them a lot more interesting -
"Oh no, the Universe is in danger! Send in Man-At-Arms With Barbie's Head!"
"Look out, it's Han Solo with No Distinguishing Facial Features to the rescue!"

I kind of lost interest, because it kind of narrowed my game options a lot:
"You want to play war?"
"Sorry, I can only play Born on the Fourth of July."



|
Tuesday, December 07, 2004
I'M MOVING IN A MUCH MORE INTELLECTUAL DIRECTION WITH MY COMEDY THESE DAYS
So sorry if you're not smart enough to get today's post. In fact, unless you have a PhD, you probably shouldn't even read the following joke:

I was watching the Discovery Channel the other day, and I learned an interesting fact about bees.
Apparently bees are very allergic to honey.
It makes them break out in hives.



* * * *

IS THIS ME, TALKING SPORTS?
I've got nothing better to do at work than study the Sports page all morning every day. So here's some thoughts:

A) The Mets: God's gift to ulcer doctors in Queens. One thing you've got to say about The Boys in Blue and Orange is that they treat their fans like family; they'll disappoint you, anger you, even do things for no good reason that completely baffle you. But you hang in there, because you grew up with them, you love them, and every once in a while they do something to make you proud.

New GM Omar Minaya is trying desperately to sign declining wacko Red Sox pitcher Pedro Martinez. Which would be fine by me; finally, non-Yankee fans would have a reason to boo him.
Actually, Yankee fans who hate Pedro for his tendency to hit batters should root for this move; it means that as a National League pitcher who has to bat in the order, he'll be playing at least one interleague game with the Yankees where he has to keep stepping up to the plate.
My prediction: Pedro will be hit with about 80 fastballs.

B) The NY Football Giants: NY sports writers are incapable of writing an article about how much rookie QB Eli Manning is struggling without mentioning the fact that the Giants traded away star rookie Ben Roethslinger to get him. I think the Giants also accepted a bag of magic beans and a suit of invisible clothes.

The funniest part to me that no one mentions, though, is the fact that Manning threatened to abort his budding NFL career (he was going to go to law school - of course he was) because he got drafted by the San Diego Chargers. The Chargers were the worst team in the NFL last year (4 - 12 record), and Manning said he'd quit if they didn't trade him ASAP.

Well, the Chargers just clinched their division this past weekend. The Giants also just clinched their position as the NY Post back page bitch boys. All this, and I still would rather watch battlefield surgery than sit through a football game.

C) The Metro"Stars": They're still playing? I guess so; I stopped into SoccerMania! in Jackson Heights the other night to see if I could get a Man United jersey, and saw that a MetroStars team shirt costs $70.00. $70.00! That means that if all their fans chipped in just a buck, they could buy one shirt. Don't even ask about ManUnited, although I did find a place on Queens Boulevard that sells them for forty or fifty.

D) The Olympics: I agree with Mayor Bloomberg that public smoking should be banned. And what the hell, if he wants to turn the NYC public school system into a Mad Max-style dog-eat-dog-eat-child post-apocalyptic survivalist scenario, good luck to him and Chancellor Klein.
But I don't get why he's so hot to have his legacy hinge on putting NYC to the Olympic Torch.
When I was over in London, they had signs everywhere that said: "BACK THE BID! Bring The Olympics to London in 2012!" And I said "Yes! I back the bid! Hell, bring the Olympics to Bangladesh, bring them to the infernal city of Perdition, just keep them the f out of my city!"

E) Steroids!: Gee, you think? What was the tip-off? When Bonds ate that baby?

F) The NY Liberty: Here's a sign you may not be the most respected sports franchise in town: This past season, Madison Square Garden, their home arena, was pre-booked, and so the Liberty had to play in Radio City Music Hall.
First of all, I would hope that next year, the Liberty put their entire deposit down, to guarantee that their reservation is honored.
Secondly, Radio City hasn't seen that many...funny funny...since the last Indigo Girls, Melissa Etheridge,,something something...I'm almost as tired as this joke is.
Thirdly, you know what preempted the Liberty? The Cat Show. Or the Dog Show. Or something else Patrick Ewing would have never stood for if his knees let him stand for anything any more.
The Liberty better watch out; I hear the 2005 NorthEast Junior High Band Semi-finals are looking for a new home, and they're flashing a mighty thick wad.
Which brings me to:

G) The NY Basketball Knickerbockers: The team's getting better, but the most entertaining player to watch is still president Isiah Thomas. I actually turn to the sports page every day eagerly anticipating his daily firing. Will it be Wilkens' assistant? The Gatorade delivery guy? Retired player Willis Reed? Thomas feeds the NYS Unemployment Office like he owns stock in the place.
By the way, when it comes to the Artest formerly known as a Pacer (Mike Lupica just wept in envy over that phrase) and his brawl, who really cares? It's just millionaire asshole athletes brawling with millionaire asshole fans. The only real tragedy was that there were no fatalities.
Ron Artest - just another scumbag from Queens. Welcome home pal, the OTB at Queensboro Plaza needs another guy like you.

H) is for Hockey: The player lockout? Oh no! I think a NY Ballet dancer lockout would have a greater impact on American sports than this did.
I mean, did you even know that the hockey season was supposed to be underway?

Okay, that's all for me this week. Forward this to a friend at the NY Daily News and get me a job there.



|
Monday, December 06, 2004
MY BATHROOM CEILING'S FALLING DOWN, my fair lady
I live in an apartment that's been rent-stabilized for the last 31 years.
As you can imagine, my landlord wishes that I were no longer living there.
As you can also imagine, repairs don't get done as speedily as I like.
It tends to go more like this:

PROLOGUE: CONDENSATION AND CONDESCENSION
A month and a half ago, I had a guy in to look at the bathroom ceiling.
He told me that it was just peeling paint, and needed to be repainted.
I explained to him that no, there was actually actual water leaking in through the ceiling, which is what causes holes and cracking and sagging. I promise that I know the difference between running water and cracking paint.

He then explained again, like he was explaining to a stubborn child that he can't visit Santa Claus if he doesn't finish his homework, that it was just a crack in the plaster and a painter should be able to take care of it.

Then I explained that if there was a crack in the plaster, then it was more serious than I thought because it was liquifying and turning into dripping water, which was then coming through the bathroom ceiling. Actually, no I didn't - in order for sarcasm to be effective, the recipient has to have the brains that God gave an ear mite, or at least a grasp of the English language that God gave a puppy dog.

I guess he could tell by tone of voice that I was absolutely not going to change my story.
Then he said he'd have to go upstairs and check the pipes in the bathroom of my neighbor's apartment there. Every five years, I have this same problem, and it always turns out to be my upstairs neighbor's pipes that have broken.

I never saw him again.

Trying to Get My Bathroom Ceiling Fixed: A Pilgrim's Journey Through The Darkest Heart of Incompetence in Several Chapters

CHAPTER THE FIRST: THE LOCK MESS MONSTER
A couple of months ago they "fixed" the lock on one of my building's doors (the rear entrance closest to the elevator to my apartment). Which meant that neither my, nor my roommate's keys, worked in that door anymore. A new key was needed.

I put off getting a new key for a while; I've had many an experience with trying to get the handymen to do anything for me, and it always leaves me angry, sad, and stuffing my face with bread for comfort.

At first I had many good excuses - I had to prepare for my trip to England, I was in England, I was preparing intensively for a show. But I was out of excuses. Now was the time for all good men to enter into the breach and all that (the breach occuring in the Terms of my Lease, I think).

Last Sunday, I cornered a handyman - and "cornered" is the right word, because during the course of the conversation he looked like he wanted to escape - and told him that I needed a new key for that door. He looked baffled, so I took my key out of my pocket and mimed opening a door with it. I felt ridiculous, like a kid pretending to start a car. As I did, I repeated, "No work. Need new key."

He nodded, said "I take care of it," and walked away.
"So I'll get a new key?" I shouted after him.
He looked over his shoulder, smiled, and gave me a big thumb's up.
I never heard from that guy again. I hope he didn't trip and break his neck in his rush to get those keys made for me.

INTERLUDE
A few months ago, a pretty young woman moved in on my floor.
The day she moved in, I saw one of the handymen (let's call him "Elson") at her door, saying "Here my cell number, if you have problem."
Believe it or not, I don't have cell number if I have problem.

CHAPTER THE SECOND: THE ASS CEILING
Last Monday, the day after I'd cornered the handyman, I called my landlord's office. They don't answer the phone anymore. They're a little too smart for that; they know that the second a tenant physically gets them on the phone, they have to actually do something.

So I leave a message for the woman at the office that i always deal with (let's call her "Maria").

The next evening (Tuesday), I get off the subway from work, and I have a message on my cell phone from Maria. Here is the entire message, transcribed:
"I'm looking for . . . oops, wrong number."
That's right, this poor woman was almost forced to deal with me and my problem by accident. Luckily, I was on the subway and thus a crisis was averted!

The next morning, Wednesday, as I'm about to leave for work, the doorbell rings. It's Elson!
For a second, my heart leaps with joy. They've actually responded to my problem in a somewhat timely manner! Oh joyous day!

Hope fades as fast as the morning dew as I notice that Elson holds two keys in his hand.
"Is girl here? This for girl."
As it turns out, my roommate had gone down to the super's office the day before to find out if we could get keys to our building that worked, and he was here bright and early to find her (she is a young and attractive woman).

While he was physically there in my apartment, I dragged him into the bathroom and showed him the hole in the celing. I told him there was a matching hole in the ceiling of the small bedroom adjacent.
He said, "Oh my God."
He swore he'd be back the next morning to fix it.

It is now the following Monday. Believe it or not, my bathroom ceiling is still caving in.



|
Friday, December 03, 2004
"HUMOROUS" POETRY I WROTE AT THE AGE OF 15
Man, I was a cynical lad. Actually, these are a lot better than I would've thought, considering how heavy-handed the "satire" was. These are all pretty much first drafts and were written at the USDAN arts summer camp. I was majoring in writing there.

Some slight explanations:

THE FIRST POEM: No, I never submitted these to magazines or anything, the first poem's assertions to the contrary.

THE SECOND POEM: Was a parody of traditional American ballads like "Little Sadie" and "Worried Man Blues," happy upbeat songs about murder and vengeance, as well as all the law problems I helped my mom study as she went through law school. I had to rewrite the last stanza, because I originally had not bothered to make it rhyme.

THE THIRD POEM: This gets kind of crazy and falls apart, but I like some of the word-play and I dig the ending. Also, I had to eliminate a whole lot of nonsense I'd written while trying to figure out a way to end it.

I Ode to a Great Unsung American Poet
My poems are somewhat hard to read, I admit.
I intermix short sentences
With long, winding ones in which I have problems maintaining a steady rhythym for words I'm rhyming,
In other words, my timing.

And if words I try to rhyme don't exactly match,
Maybe I'm just another Ogden Nash.

And with my deadline,
When I fall behind,
And stay up all night on caffeine,
Working up a head of steam.
And the editor rejects my work,
He says, "You fell behind deadline, go stiff some other jerk."
I descend into the deepest pits of Hell,
Seeking a venue for my poetry to sell.
And I feel tempted - please forgive the vice -
To parodize poets, whose talents twice
As much as mine, you must admit,
I don't give a bit.
Who wants to buy it, who gives, who cares?
If I'm the one to go split hairs.

I've got the soul of Wordsworth, though it may sound mellow,
Shakespeare's mouth and the eyes of Longfellow.
I'm a new old master, a verbal platter
Of mental vitamins, but it is no matter.
My creditors insist on cash,
For I am still no Ogden Nash.


II - The Law & Shorty McGraw
X and B strolled through the night,
Hand in hand and tongue in cheek.
X and B began to fight,
X was strong, B's skull was weak.

X punched once, and thus B fell,
B's head shattered, pieces flew.
His skull was thin like an eggshell;
X was mortified - he never knew.

X fled and Officer A pursued,
They caught him and he got ten years.
But he laughed when B's family sued;
They'd put a price-tag on their tears.

X hired Z, an ambulance-chaser who'd
Represent him in the court.
When it came to trial they counter-sued
And X matched the Bs tort for tort.

Years passed in this legal war,
And on judgment, the press did surround him.
X was the one the jury had decided for,
X had had to take B as he found him.


III - Ballad of The Modern Politician
Consider the modern politician
Reduced to a statician
Dependant upon fictional facts.
When betrayed by the truth,
he goes straight to the root,
And changes perceptions with an axe.

And he neighs while he moos,
While on the news he says "Nay."
And he bays while he boos,
Drinking booze by the bay,
And he lays while he loses,
As he choses to pray.
And he stays while he stews,
Misconstrues those who stray.

The first stepping-stone to glory,
A "human interest" story.
In other words, the other guy's a sleaze.
He oozes like a snail,
Leaving a campaign trail,
Sleeping with my dogs and he always catches fleas..

And he moos at the traps
As he trips up the news,
And he changes the facts
With an axe as he choose.
And he'll use a phone tap
To tap up what's new.

Yes, a crap shoot is nice
When you use loaded dice,
And everyone knows but don't care.
I may have screwed up a lot,
But it matters not,
Today's a good day for my hair.

He took a spin as a proctor,
Earned his doctorate in spin.
And his twin really shocked her
The concocter's his own twin
Of the bill and he blocked 'er,
He say the blockage let it in.

And he sold his soul to Satan,
In the public sings a hymn.
George Orwell, their speech writers;
"Illegal, ill aggle, Constitutional fiddle-faddle.
The press has the right to remain silent,
The freedom of pressure groups,
Like Storm Troops, Froot Loops,
Hoops-a-through
Oops-A-Daisy.
Don't print that,
Let's not get crazy.
I don't recall,
My memory's hazy.
It was my staff,
Just too dang lazy.
I was out of the froot loop,
Jump through the hoop,
Down memory lane,
It's blacked out again."

When you get too chicken
You can always hunt quail.
How can you make amends
When there was no betrayal?

He's a man you see (no sanity)
He's banal (quite anal)
Declared (teeth bared)
Contention (didn't mention)

"I'll have to get back on that."
("Did you really expect an answer?")
"I'll have to check the facts on that."
("I'll be your private belly-dancer.")

On Dasher, on Dancer, on Donner, on Vixen!
On Dopey, On Gropey, On Mopey, On Nixon!
To the edge of the heartland,
To the edge of the mall.
Dance away, dance away, dance away all!



|
Thursday, December 02, 2004
THINGS TO DO IN LONDON PART II
Avoid Chinatown
London's "Chinatown" is a pathetic affair. Never has any segment of any town ever been so transparently designed as a destination for tourists. It's basically a courtyard that's gated off so cars won't plow through the European visitors feeling "exotic." I spent my trip trying not to compare the things I see negatively to their counterparts back home, but this time I can't help it.
Hell, Montreal has a more thriving and exciting Chinatown.

It basically consists of several little stores selling the same cheap trinkets you can get at any 99-cent store at home, marked up a couple hundred times; and rows of mediocre restaurants. In fact, I've never written a restaurant review before, but here we go:

THE FENG SHUI INN
5 Gerrard St.
0*s (out of 5)

Despite the British reputation for poor service, we had not truly experienced any until we visited The Feng Shui Inn in Chinatown. Named after the ancient Asian art of furniture arrangement, the name fairly screams "We picked the first vaguely Asian words we could think of, because we don't give a shit!"
This lacksadaisical attitude towards customer satisfaction was, we found, adopted as a theme for the restaurant.

We walked in and waited by the door to be seated for about four minutes, watching the waiters as they scurried about ignoring us. Then we looked for a sign to the effect of "PLEASE WAIT TO BE SEATED." Not seeing any, we grew embarassed. Assuming that we were in a seat-yourself restaurant - and fearing that in standing by the entrance we looked like ignorant Yankee jackasses - we proceeded into the restaurant to do so.

We were stopped halfway in by a short, waitress in her twenties, Chinese and short-haired, she wore the weary expression of one who has been (excuse the expression) Shanghaied into the restaurant business.
She looked at us as if we had just urinated into a ceremonial tea cozy: "What you doing?"
"Looking for a seat?" we replied.
With a furious sigh, she led us back to the front door where she picked up a menu, and then led us back through the restaurant where we had met, then back further into a corner by the Staff Bathroom.

We realized that we had just been shown who was The Boss here, and that it wasn't us. We considered leaving, but then realized that this was shaping up to be a truly memorable afternoon of dining. The Feng Shui Inn, in fact, was promising such memorably poor service that it was bound to be more entertaining than the evening of theatre we'd experienced previously (which we will write up in the near future).

We were not to be disappointed.

After a mere seven minute wait, a young surly Chinese lad came to give us our menu.
In the span it took for him to return to take our order, we had ample time to reflect on the mistake the staff was making in being openly hostile to us.

In New York's Chinatown, the waiters' rudeness is in reverse proportion to how much they hate you; the wider the smile, the more they clearly despise you.
A waiter who laughs uproariously at your feeble attempt at a joke while kindly helping you to your seat, for instance, is clearly saying, "If my daughters were not both in college, I would pee in your soup."
If the waiter shakes your hand on the way in, turn around and walk out. His daughters have graduated and he has already peed in the soup to celebrate.

On the other hand, the waiter who merely gives you a smile as he asks to take your order is saying, "In two weeks I'll have finished my accounting class at night school, and then I will be rid of you forever. I am already looking back on you as a sort of barely-painful memory, like an old war wound."

When our waiter finally graced us with his presence again - presumably having run out of better things he could be doing, like scouring a toilet - we ordered the pork with pineapple and ginger.
"And what you want to drink?"
"Just tea," we replied.
"The Chinese tea?"
We assumed that, being in a Chinese restaurant, we didn't need to clarify that yes, we had intended to order Chinese tea just as we had expected that our pork-with-ginger was not to be an Indian recipe.
But seeing as he wouldn't go away until we answered out loud, we affirmed that yes, we had in fact wanted Chinese tea.
He then fumed away, as if "Chinese tea," when translated, were some obscure insult about his mother.
In fact, we rather hope that it was.

In the time it takes for our order to be cooked (and judging by the time it takes to arrive, and the lukewarm consistency of the food when it does, it was clearly mailed third-class), we have the time to truly take in the decor of the place.
It's overall beigeness gives the impression that someone told a designer, "I want to give this place the warm, homey feel of a Motel 6 breakfast area, but add a few Chinese knicknacks the walls, so that the customer feels that, even if they have not experienced the wonders of the Orient, they met someone who might know someone who has. Put up red fans. Put up pictures with Chinese characters on it. Or Japanese; the English will never know the difference. Make the whole effect vague and indistinguishable, so that we leave no lingering memories. After all, a customer who doesn't remember he was even here is a customer who can't warn his friends to avoid us."

Another seven or ten or fifteen minutes or half-hour - for time clearly has no meaning here - later, a plate conatining our order is dropped on our table.
"Thank you," we say.
"No problem," the waiter mutters, walking away.
We are relieved to know that he was not put out by the fact that he had to do his job.

As we eat our meal, we reflect on the notice on the menu that reads: "10% Service Charge Added to Bill."
We are not a fan of the "automatic tip," because we've found it promotes the worst service possible (ask us about our trip to the Riverside Boat Basin, where we waited forty-five minutes for a Rolling Rock), but this time we were heartened, assuming that any monies raised can only be used to improve customer service; perhaps management will send the staff to an Etiquette School, where they will be taught the finer points of customer care.

We muse on this to keep our thoughts off of the food we're eating. The pork is flavorless and rubber-like. The pineapple is flavourless. Which surprises us, because in any bad meal, pineapple can usually be counted on to retain its flavour to the point of overpowering the palette. There must have been a special machine to take the flavour out.
The ginger is tangy, angry and tart, much like the way cat urine smells. The rice has a strong undertaste, as if it had been kept in a cooker that had been buried in peat for three or four days before being served.

A gentleman at a table nearby finishes his meal at the same time we do ours, and his plate is cleared away as ours lays sitting there. After a significant look at our server, ours is cleared away, too. The gentleman is given his check. Then a couple at another nearby table finishes their meals; they gets their check and are given a shot at liberty.

Time passes, and we are still waiting for our check. We put on our jacket as a hint. Then we stand up and look the woman in the eye.
"Yes?" she asks.
"Do you want me to pay, or do I eat for free?" we inquire.
"You pay?" she responds.
"Then I should probably get the bill," we helpfully point out.
And three minutes later, we do.
And five minutes later, we are allowed to pay, and are out of there.

We definitely recommend The Feng Shui in for the - well, not the food, atmosphere, or service - but for the masochistic or the bored.

Forget it Jake, it's barely Chinatown.



|
Wednesday, December 01, 2004
DO WHAT YOU LOATHE AND THE MONEY WILL FOLLOW
AT A RESPECTFUL DISTANCE WHERE YOU CAN'T GET YOUR HANDS ON IT
So I hate me job.
An old story, sure - a story as old as the one that goes boy-meets-girl, boy-gets-bit-by-zombies, girl-shoots-boy-in-the-head, girl-rides-off-into-sunset-with-all-female-biker-gang.
Shakespeare.

I'm a market researcher; I call businesses and ask people who are busy with real jobs to stop whatever they're busy with and do a twenty minute survey over the phone.
If you want a job description, I would say that I'm professional at getting hung up on.

As my supervisor kindly pointed out yesterday, I make about ten percent of an effort, and I'm the office genius.
He asked me, "If you can accomplish that without making no effort, what could you do if you tried?
The answer: "Get a better job."

It's an eclectic mix of people working there, to be sure; single moms, ex-felons and future felons, guys with neck tattoos, wannabe gangsters and former gangsters, burnouts, alkies, insane, borderline-mentally disabled.
I've gotten several pep talks recently from some of my coworkers about how much better life would be if I were on welfare. So far I've resisted the temptation, although I sadly suspect they may be right.

The place smells. Not good. In fact, I was waiting for the elevator yesterday, and noticed that the hallway by the elevator smelled like someone had taken a piss in the corner. That's when I realized that that was because someone had probably taken a piss in the corner.

In the Men's Room, some of my coworkers have taken to smearing their boogers above the urinal.

* A gentleman who works with me has developed a fun game called "Can I Get Caught Getting Shit-faced At Work?" The way he plays is, he buys two airplane-bottles of 99 Proof Banana-flavored liquor (he told me that it isn't that strong because it's only 49.5% alcohol by volume). He drinks one by noon, the other by three.
At three-thirty, two bottles and several sticks of gum later, his breath still strong enough to clean glass. He is another one of the top producers in the office.

* A conversation I overheard last week, between two fellas discussing what would happen if they were called into jury duty:
FELLA 1: Yo, they put me on a jury, ain't no one going to lock-down!
FELLA 2: What about your boy up for murder? What if you found out he did it?
FELLA 1: Shit, I know he did it. I still say let him go!

* There's a crazy old guy who likes to tell me that he's a former CIA operative and Richard Grieco's father. Fine. I'd make fun of him if he weren't happier in his fantasy life than I am here in The Land of Reality. But I made the mistake of telling him that I had gone to a party last weekend. He then cornered me and asked - genuinely hurt - why I hadn't invited him, and demanded an invite in the future. He wants to meet young women. Dude, if I have trouble meeting young women, how am I supposed to hook up some crazy old guy from my office?

* My supervisors are fun. The day before Thanksgiving, our Day Shift Supervisor (an African-American gentleman) mused aloud about how Thanksgiving was a holiday for White People to celebrate robbing the Indians.
He then went on to talk about how it was the Africans' fault for being enslaved, because "we're natural-born warriors."
I declined to comment. I ain't the most perceptive cat, but I can sense when my opinions ain't welcome.

* A boss who is called "The Dragon Lady," as much for her personality as her breath, called me into work the day after Thanksgiving. Apparently, the company's fifteen year-old computer system had crashed the Wednesday before and they'd lost a morning's work. So they needed us to call businesses the day after Thanksgiving and try to catch people at work to ask them annoying survey questions.
I called Indianapolis for six hours, and one person answered. One. And that person asked me if I knew what day it was before hanging up on me.
My boss constantly yelled at for not being productive enough.

I guess what I'm saying is: do you know a good temp agency?



|